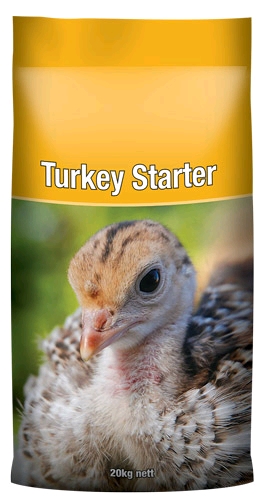 | | |
| --- | --- |
|  Product No. |  2210320 |
|  Description |  TURKEY STARTER 20kg |
|  Unit |  20 KG |
|  Alternate Product |    |
Turkey Starter is a highly nutritious food formulated to be fed to turkey poults from day old to 6 weeks of age.
The diet is balanced for essential nutrients such as protein, energy, vitamins and minerals to ensure strong and healthy growth.
It is manufactured in crumble form to ensure that it is easy for small birds to consume and contains a coccidiostat for the prevention of the intestinal disease coccidiosis.
Feeding Recommendations
Feed Turkey Starter crumbles ad lib. from day old to 6 weeks of age.
From 6 weeks of age feed "Meatline Starter" crumbles or "Gamebird Finisher MP" ad lib. until 12 weeks of age.
From 12 weeks of age feed "Meatline Finisher" pellets ad lib. until kill.
Ensure clean, fresh water is available at all times.
Warnings
Lasalocid sodium:
This feed contains Lasalocid sodium for the prevention of coccidiosis caused by Eimeria species.
Do not feed to hens producing fertile eggs or game birds other than turkeys.
Do not feed to camelids, horses or other equids as it may be fatal.
Withholding periods:
Meat: Pullets & Broilers 1 day; Turkeys nil; Eggs: 14 days.
Ingredients
Turkey Starter is formulated from a selection of the following ingredients: Wheat, triticale, barley, oats, peas, lupins, lentils, beans, soyabean, canola, sunflower and products derived from these ingredients.  Meatmeal, fish meal, blood meal, fat, limestone, di-calcium phosphate, sodium bicarbonate, potassium carbonate, salt, lysine, methionine, threonine, tryptophan, antioxidant, enzymes and lasalocid sodium.  
Vitamins: A, D3, E, K, B1 (thiamine), B2 (riboflavin), B3 (niacin), B5 (pantothenate), B6 (pyridoxine), B7 (biotin), B9 (folic acid), B12 (cobalamin) and choline. 
Minerals: Calcium, phosphorus, potassium, sodium, chloride, cobalt, copper, iodine, iron, manganese, molybdenum, selenium and zinc.
Analysis (as fed)
| | |
| --- | --- |
| Protein (min) | 28.0% |
| Fat (min) | 3.0% |
| Fibre (max) | 6.0% |
| Salt (max added) | 0.35% |
| Lasalocid Sodium | 100 ppm |