Laucke Mills servicing Alice Springs since 1985
Services
Laucke Mills Alice Springs offers a range of products and services to meet your animal feed and supply needs.
Bulk feed and specialty feed items can be ordered upon request

Deliveries in town and through "The Gap" (rural areas)

The only business in town that offers or supplies:
– Hay Hire - ideal for birthday parties, weddings, themed functions etc.
– Pea straw bales, great for gardens and chook houses!

Major sponsor of the Poultry section at the Alice Springs Show, plus many local clubs, social group functions and fundraisers such as Govie's Muster/Alice Springs School of the Air, Old Timers Fete, Alice Springs Camel Cup, Bush Horse Races and Rodeos.
---
Products
All Laucke Mills products as listed on the website. Poultry, horse, ruminant, pig, rabbit, guinea pig, kangaroo, bird and even fish food!

Dog food
– Great Barko
– Uncle Alber's
– Dib's Premium Dog Bits

Dog treats
– Raw hide bones
– Pressed bones
– Roo jerky
– Liver treats
– Pig and beef ears

Cat food

Cat litter

Bird seed

Supplements and salt licks

Milk replacers

Chaff
– Oaten
– Wheaten
– Lucerne
– Uni-mix

Hay bales
– Oaten
– Wheaten
– Lucerne
– Meadow

Straw bales
– Pea straw
– Barley straw

Pet Accessories
– Dog collars, leashes, bowls and beds
– Pet crates and carriers
– Rabbit hutches
– Bird cages and nesting boxes

Horse gear and tack

Feeders and waterers

Medical supplies

Wormers

Garden supplies

Laucke Flour

Come and meet our friendly staff Martha, Cathy and Clare.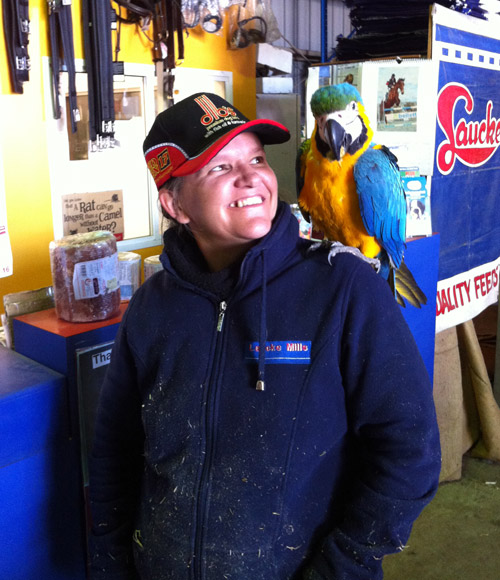 Look who stopped in for a visit and a treat!
---
Contact
74 Elder Street, Alice Springs, NT, 0870
P:  08 8952 8611
F:  08 8953 2909
E:  alicesprings@lauckemills.com.au
---
Opening Hours
Monday - Friday         8:30am - 5:00pm
Saturday                      8:30am - 12:00pm
Sunday                        Closed
Public Holidays          Closed