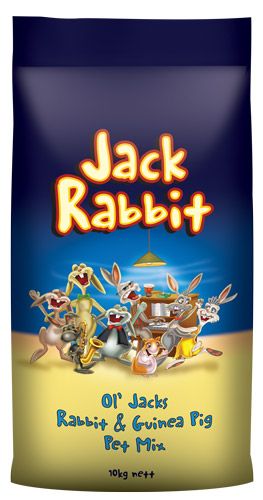 | | |
| --- | --- |
|  Product No. |  9969110 |
|  Description |  OL JACKS RABBIT & G PIG PET MIX 10kg |
|  Unit |  10 KG |
|  Weight |  10 |
Ol' Jacks Rabbit & Guinea Pig Pet Mix is a complete food that requires no other supplementary feeding.  This nutritionally balanced and palatable food contains lucerne and cereal chaff for healthy digestive activity, and vitamin C which is an essential nutrient for guinea pigs.
Feeding Recommendations
Feed ad lib. along with cool, clean, fresh water.
Do not make sudden changes in diet as digestive problems may occur.
Grass and hay may be fed along with Ol' Jacks Pet Mix if desired.
Warnings
This feed has been manufactured specifically for animals as described, do not feed to any other species of animal.
This product does not contain restricted animal material.
Ingredients
Ol' Jacks Rabbit & Guinea Pig Pet Mix is formulated from a selection of the following ingredients:
Lucerne (alfalfa) chaff, cereal chaff, barley, triticale, wheat, oats, rice, lupins, peas, beans, canola, soya, sunflower and products derived from the above.  Vegetable oil, lignin, molasses, di-calcium phosphate, limestone, bentonite, salt, lysine, methionine, threonine, tryptophan and antioxidant.
Vitamins: A, C, D3, E, K, thiamine (B1), riboflavin (B2), pantothenate (B5), pyridoxine (B6), B12, niacin, folic acid, choline and biotin.
Minerals: Calcium, phosphorus, sodium, chloride, cobalt, copper, iodine, iron, manganese, molybdenum, selenium and zinc.
Analysis (as fed)
| | |
| --- | --- |
| Protein (min) | 15% |
| Fat (min) | 4% |
| Fibre (max) | 20% |
| Salt (max added) | 1% |