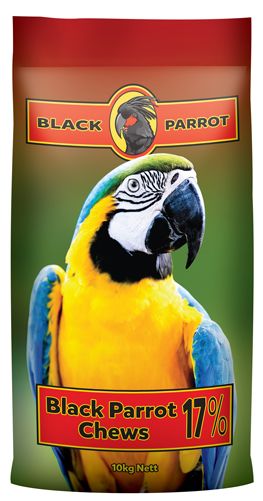 | | |
| --- | --- |
|  Product No. |  1190210 |
|  Description |  BLACK PARROT CHEWS 17% 10kg |
|  Unit |  10 KG |
|  Alternate Product |    |
Black Parrot Chews are a 17% protein general purpose parrot breeder and maintenance food manufactured in large nut form to provide a novelty treat for parrots to chew and play with. 
Chews are formulated to provide the necessary nutritional requirements of adult birds and are suitable for both breeding parrots and as a general maintenance diet. Parrot Chews are balanced for essential nutrients such as protein, energy, vitamins and minerals eliminating the necessity to feed expensive supplements.
Black Parrot Chews are manufactured as club shaped nuts.
Fish Oil & Turmeric
Black Parrot Chews contains fish oil which is a rich source of omega 3 fatty acids EPA and DHA, and turmeric as a source of curcuminoids.
Feeding Recommendations
Black Parrot Chews can be fed ad lib as the sole diet or along with Black Parrot Breed & Grow, Black Parrot Adult or Black Parrot Small Bird Food. They can also be fed as a nutritious supplement to a grain or fruit based diet.
Ingredients
Black Parrot Chews do not contain artificial colours or flavours and are formulated from a selection of the following ingredients: Wheat, triticale, barley, oats, peas, lupins, beans, lentils, canola, soya, sunflower and products derived from these ingredients. Fish oil, turmeric, limestone, di-calcium phosphate, sodium bicarbonate, potassium carbonate, salt, lysine, methionine, threonine, tryptophan, isoleucine, valine, arginine, antioxidant and digestive enzymes.
Vitamins: A, D3, E, K, B1 (thiamine), B2 (riboflavin), B3 (niacin), B5 (pantothenate), B6 (pyridoxine), B7 (biotin), B9 (folic acid), B12 (cobalamin) and choline.
Minerals: Calcium, phosphorus, sodium, chloride, cobalt, copper, iodine, iron, manganese, molybdenum, selenium and zinc.
Analysis (as fed)
| | |
| --- | --- |
| Protein (min) | 17.0% |
| Fat (min) | 6.0% |
| Fibre (max) | 8.0% |
| Salt (max added) | 0.4% |