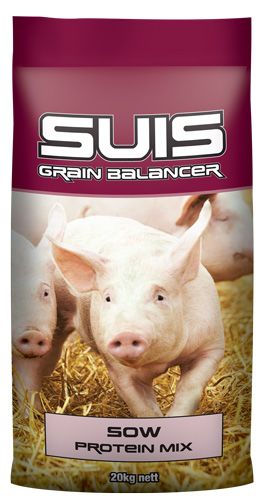 | | |
| --- | --- |
|  Product No. |  8888420 |
|  Description |  SUIS SOW PROTEIN MIX 20kg |
|  Unit |  20 KG |
Suis Sow 8888 Protein Mix has been formulated to be mixed with on farm grains to provide a balanced, high performance diet for growing and breeding pigs.
Feeding Recommendations
To ensure optimum results when using Suis Sow 8888 Protein Mix it is essential that you contact our technical personnel so that a balanced diet can be formulated to meet your piggery requirements.
Ingredients
Suis Sow 8888 Protein Mix is formulated from a selection of the following ingredients: Meat meal, blood meal, fish meal, peas, lupins, beans, lentils, millmix, canola, soyabean, fat, limestone, dicalcium phosphate, salt, lysine, methionine, threonine, tryptophan and antioxidants.
Vitamins: A, D3, E, K, thiamine (B1), riboflavin (B2), niacin (B3), pantothenate (B5), pyridoxine (B6), B12, folic acid, biotin and choline chloride.
Minerals: Calcium, phosphorus, sodium, chloride, chromium, cobalt, copper, iodine, iron, manganese, selenium and zinc.
Analysis (as fed)
| | |
| --- | --- |
| Protein (min) | 55.0% |
| Fat (min) | 6.0% |
| Fibre (max) | 10.0% |
| Salt (max added) | 1.0% |