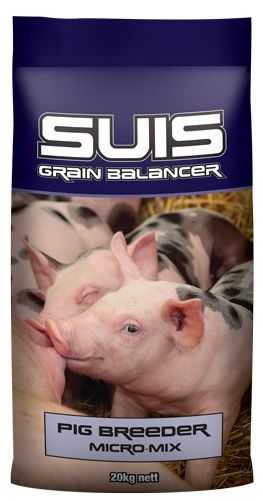 | | |
| --- | --- |
|  Product No. |  8494420 |
|  Description |  SUIS PIG BREEDER MICRO MIX 20kg |
|  Unit |  20 KG |
Suis Sow 8494 Micro Mix has been formulated to be mixed with on farm grains at 6% inclusion to provide a balanced breeding diet for sows.
Feeding Recommendations
To ensure optimum results when using Suis Sow 8494 Micro Mix it is essential that you contact our technical personnel so that a balanced diet can be formulated to meet your piggery requirements.
Ingredients
Suis Sow 8494 Micro Mix is formulated from a selection of the following ingredients: Meat meal, blood meal, fish meal, peas, lupins, beans, lentils, millmix, canola, soyabean, fat, limestone, dicalcium phosphate, salt, lysine, methionine, threonine, tryptophan and antioxidants.
Vitamins: A, D3, E, K, thiamine (B1), riboflavin (B2), niacin (B3), pantothenate (B5), pyridoxine (B6), B12, folic acid, biotin and choline chloride.
Minerals: Calcium, phosphorus, sodium, chloride, chromium, cobalt, copper, iodine, iron, manganese, selenium and zinc.
Analysis (as fed)
| | |
| --- | --- |
| Protein (min) | 40.0% |
| Fat (min) | 5.0% |
| Fibre (max) | 10.0% |
| Salt (max added) | 4.3% |